Jeremy J. Brooks
PhantomousJ@yahoo.com
SKILLS and QUALIFICATIONS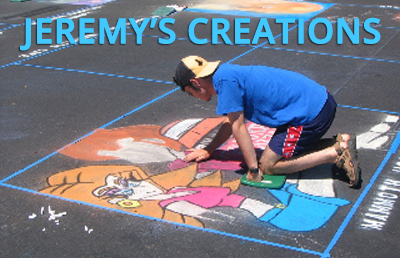 Positivity-complimented writing and typing skills.
Public speaking skills.
Analytical and researching skills.
Continuously developing artistic skills with mediums focusing on pencil, ink, and attempting to self-learn digital painting with a Wacom tablet.
Chalk artist.
Graphic design skills.
Creative writing skills, focusing towards speculative fiction, realistic fiction and non-fiction.
Critical reviewing and articling skills. Mainly film-related, but does include some other mediums such as books, graphic novels, and video gaming. Has taken a video game course and passed with successful grading.
Can point and aim a camera well.
EDUCATION:
Point Loma Nazarene University, San Diego, CA
BA Degree Graphic Design/Illustration; Minor in Writing. Graduated July 2013.
EXPERIENCE:
Point Loma Nazarene University San Diego, CA; Fall 2011
Special Needs Advocate. Escorted new college student diagnosed with Aspergers syndrome from class to class to lend a helping hand in feeling welcomed on campus. Assisted new college student diagnosed with Aspergers syndrome with schoolwork and homework in any ways possible if necessary.
Ben & Jerry's Ice Creamery Mammoth Lakes; CA Jan-Dec 2008
Server. Created an outstanding customer service experience by ensuring every customers need was identified and met. Made sure store was as clean and presentable as could be with the best intentions.
Mammoth Lakes Public Library; 2004-2007
Librarian Assistant. Instructed visitors on how to use reference sources, card catalogs, and automated information systems. Located library materials for visitors, including books, periodicals, tape cassettes, Braille volumes, and pictures. Maintained records of items received, stored, issued, and returned, and file catalog cards according to system used.
Processed new materials including books, audiovisual materials, and computer software.
Provided assistance to the librarian in the maintenance of collections of books, periodicals, magazines, newspapers, and audiovisual and other materials. Sort books, publications, and other items according to established procedure and return them to shelves, files, or other designated storage areas.
Mammoth Lakes Von's Grocery Store; December 2014 – July 2016. Courtesy Clerk. Assist customers with product location. Assist cashiers with bagging groceries. Assist with returning products back to proper location. Assist with cleanliness of store.
Clearvoice, Marketing Firm; January 2015 – present. Electronic Game Writing Team. Writes and publishes articles on team for over 1,000 websites.
Busy Beez General Store; July 2016 – present. Store Clerk, assistant and cashier.
Mammoth Film Festival Volunteer; February 2020. Assisted film festival staff.
Chalk artist for 10 years during public events in Mammoth Lakes, CA.
Accomplishments:
First personal public viewing art gallery at the age of 13 (2004).
Won local "Fireman's Picnic" t-shirt design competition at the age of 15 (2006).
Participated in hometown's annual chalk art festivals for 7 years, beginning at age 13 (2004-2010).
Written a total of 12 newspaper articles published in Point Loma Nazarene University school newspaper, plus has had an article written on personal life story.
Featured an the main article of the Spring 2011 issue of Point Loma Nazarene University's Alumni magazine "The Viewpoint."
Main subject of documentary "JJ's Journey: A Journey About Autism."
Ongoing participation in public presentations on autism nationally since 2008. Biggest one by far has been partaking in a Q&A with two other autistic individuals in front of an audience of over 200 doctors and scientists at San Diego State University (2011).
Is a film buff and does critical reviewing as a hobby, using film watching as a tool to teach self about story structure. Has seen all 250 of International Movie Database's "Top 250 Movies as Voted by IMDb Users," all films in the book "101 Science Fiction Movies to See Before You Die," all films in "101 Horror Movies to See Before You Die," all films in "101 Cult Movies to See Before You Die" and all films in "101 Action Movies to See Before You Die."
Possesses extensive knowledge of different modern-day artists and designers. Analyzed all over 1300 booths at San Diego Comic-Con 2013 for research reasons and could remember who and what was where all by memory returning back in 2014.
Volunteered for a charity, Autism Spectrum Disorder Supports; illustration work for steampunk and fairies-genre comic book. FlutterVision Productions; 2014.
Partnered as the illustrator with his mother, the author, on the 5-time award winning book "Myself, My Responsibility – tools to self-advocate." Published August 2018. Available on Amazon. Enjoy the video book reveal.
Look for Jeremy's dinosaur illustrations in a featured coloring book to be published 2020.